Fri., May. 17, 2013
Tour de Tommy | Bike to Work Day 2013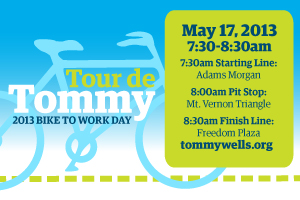 Celebrate Bike to Work Day 2013 on May 17th with Tour de Tommy! Join us as we cycle from pit stop to pit stop across the city, starting in Adams Morgan and ending at Freedom Plaza. Come for the whole ride, jump in at any of the pit stops, or catch up with us along the route. Please wear your helmet!

Start: Adams Morgan | Triangle Park | Champlain Street and Euclid Street, NW | 7:30am
Pit Stop: Mount Vernon Triangle | Busboys and Poets | 1025 5th Street, NW | 8:00am
Finish: Freedom Plaza | 14th and Pennsylvania Avenue, NW | 8:30am

Tour de Tommy Route: http://goo.gl/maps/l6Jo0

May is National Bike Month and Bike to Work Week is May 13-17, 2013. The League of American Bicyclists began Bike to Work Day as part of Bike Month in 1956. Over the years, Bike to Work Day has grown into a widespread event with countless bicyclists taking to the streets nationwide in an effort to get commuters to try bicycling to work as a healthy and safe alternative to driving alone. In the Metropolitan Washington region, Bike to Work Day has grown from a small group of a few hundred in 2001 to over 12,000 participants in 2012. This year the annual Bike to Work Day will be held on Friday, May 17th. Rain or shine!
Location:
From Adams Morgan to Freedom Plaza
When:
7:30 AM
Ends:
8:30 AM
Add to Google Calendar
Add to iCal
The ticket sales period for this event has ended.